CityBee grows fast in 2017 amid breakthrough in Lithuanian car sharing market
Lithuanian startup CityBee has tabulated its results for 2017, and it was a year of remarkable growth in size and popularity for the car sharing operator. Its cars are now available in several of the country's cities, the community of users of its services now numbers more than 100 000, and the total distance customers have driven is now in the millions of kilometres, a press release by the company states.
Around the Earth 300 times
Lukas Yla, CityBee's CEO, notes it wasn't just users of the CityBee system that multiplied in 2017. The startup's fleet also expanded, swelling to over 500 vehicles including 20 trucks.
"Few car sharing operators in Europe, east or west, can boast of a fleet like that," he says.
The number of trips made by customers has also grown rapidly, he adds. Last year 80 percent more trips were made in CityBee cars compared to 2016.
The overall time in use of CityBee vehicles in 2017 totalled some 90 years. The cars that customers used most, and thus the ones that spent the most time on the road, were the very practical Toyota Yaris and the Volkswagen Golf, a comfort-segment standard.
Analysts at CityBee calculate that customers drove a total of more than 12 million kilometres last year. To give a better sense of what that distance represents, the company's CEO offers an analogy: "It's the equivalent of circling the Earth 300 times."
Less CO2
Commenting on the company's performance in 2017, Lukas Yla notes that last year was also significant because a lot was invested in more ecological, environmentally friendly vehicles. Thus every fifth CityBee car is now a hybrid or fully electric-powered, and that proportion will continue to increase, according to the CEO.
Investments in more advanced and more ecological vehicles paid off fast. Over the year, CityBee's electric cars and hybrids helped protect the environment from 100 tons of CO2.
Talking about protecting the environment, Mr. Yla stresses that the cars CityBee owns and offers to its customers are significantly newer than the average in the country, so their contribution to preserving the environment is also significant.
"Data from Regitra show that the cars in use in Lithuania have an average age of 15 years. In other words, those are cars that were made in 2002. In comparison, new cars, like the ones in our fleet, release almost 29 percent less carbon dioxide into the atmosphere," the CEO explains.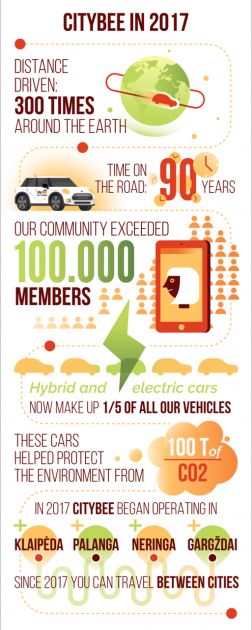 Plans for 2018
Since March 2017 it has been possible to drop-off CityBee cars in other cities, and the full car-sharing network has expanded across Lithuania's three biggest cities as well as Palanga, Neringa and Gargždai in the coastal region. Further growth in the car sharing system's popularity in Lithuania will be promoted, according to the CEO, by setting up new zones where CityBee cars can be left.
Mr. Yla calls 2017 a breakthrough year. Previously, he says, that were not many people who believed in the future of such services. Now there are a lot more believers.
"The critical point where the service was only of interest to innovation enthusiasts has been overcome, I think. Now it's gained momentum and become a mass phenomenon," the head of the company says, adding that increasing popularity and size also pose certain challenges.
"We have to ensure that the service operates as smoothly as possible, so we're working intensely on a huge upgrade of the system and the mobile app, the results of which you'll see already in the first half of this year," Lukas Yla notes.
He underscores that CityBee will also continue to expand its fleet in 2018, with plans to boost the number of vehicles to 750. In 2019, meanwhile, the startup intends to offer customers a full 1 000 cars.