This was a day to be in high spirits for the eleven organisations to receive the proceeds of this year's Bazaar. Co-chair Benita Guillaume was delighted to announce that a record €143,235 had been collected this year. After some minimal expenses, she and her co-chair, Letizia Taliani de Marchio, were visibly pleased to hand over the proceeds to the selected organisations. Although initially eight organizations had been scheduled, a very successful bazaar resulted in spreading some more joy to an additional three recipients.
To set the right tone for the joyful event, three performers of Balys Dvarionas Music School) played some traditional Lithuanian songs. They ended on a seasonal 'Silent Night', sang in Lithuanian. The music had been provided through the generosity of Birutė Vizgirdienė. Thirteen years ago, Ms. Vizgirdienė, together with Gunilla Possenius and Rosemaria Schwarzinger, started the first International Charity Bazaar. The outstanding success of this year's Bazaar must be music to their ears.
Two hospitals were among the charities receiving large donations from this year's Bazaar. Dr. Arūnas Liubšys of Vilnius University Children's Hospital and Dr. Rasa Tamelienė of Kaunas Neonatal Clinic plan to buy some new equipment to monitor the brain blood oxygenation and metabolism of babies. Each of their hospitals received €19,000.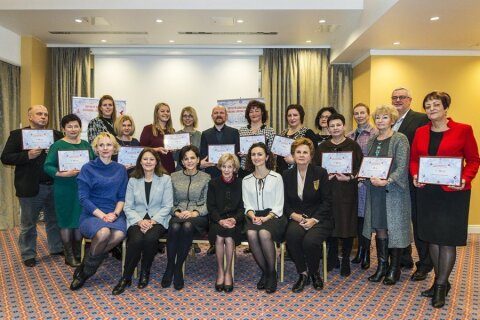 "This generous gift will allow us to buy some particularly important measuring and monitoring equipment that is non-invasive in measuring the brain activity in mainly pre-mature babies," explained Dr. Liubšys. Mr. Ginter Harner, the director of Klaipėdos Globos Namai, was also happy with the €11,000 donated to the elderly care home in Klaipėda. Mr. Heirner said, '"We plan with the money to add a combination sound and light room to treat depression in seniors."
It was also a day to thank the 50 organisations and embassies that had various stands, the many volunteers and the generous donors. Benita Guillaume praised in particular the generosity of the many sponsors. Ms. Guillaume also expressed her thanks to Ms. Alma Adamkienė, the Honorary Ambassador, and Janina Butkevičienė, wife of the Prime Minister and the patron of the International Christmas Charity Fair. She said, "Having Ms. Adamkienė and Ms. Butkevičienė as ambassador and patron was significant in generating the record amount of sponsoring and donations."